Bericht
»A life-changing experience for us all.«
Justine Lorenz ist bilinguale sozialpädagogische Assistentin. In ihrem Bericht erzählt sie von ihrer Arbeit und ihrer Liebe zu Lübeck.
Who am I and why am I here?
My name is Justine Lorenz and I am 26 years old. I grew up in New Jersey, USA, the grandchild of German immigrants. I got my bachelor's degree in Early Childhood Education at Rowan University in 2017. Shortly thereafter, I won a Fulbright scholarship which sent me to the Schule am Stadtpark here in Lübeck to work for ten months as a foreign language assistant, a position which I ended up extending by one year.

I chose Germany because, from the moment that my grandparents told me they were from a different country when I was five years old, I was fascinated, and that fascination has not faded. I spent the summers of 2016 and 2017 working as a live-in English tutor in a few different cities in Germany and found that I just could not stay away.

Why did I stay?
I stayed for two reasons:
I am in love with Lübeck. It is a beautiful city with such a rich and interesting history. Every daily Spaziergang through the Altstadt is exciting to me, still, two years later. I'm still discovering something new and interesting here on a regular basis. The size of the city is perfect, I love the culture, and Germany has always felt like home to me.

The second and most important reason is that I fell in love with the job. Teaching English as a foreign language to children is the most rewarding experience I've ever had. The children I worked with at the Schule am Stadtpark were such a delight, and watching them learn and grow and by the end, be able to lead a conversation with me in English, gave me such a feeling of pride. English is such an important language to be able to speak, no matter where you live. It opens the doors to endless possibilities, and I want to do what I can to open these doors for the children of Lübeck.

What am I doing now?
Once my time at the Schule am Stadtpark was over and I said my teary goodbyes, I started my position as a part-time bilingual assistant at the Kita Dr.-Julius-Leber Straße. There, I play with the kids while speaking English (board games, puzzles, movement games like tag or hide-and-seek, dramatic play, etc.), sing English songs, read English books aloud, and generally just talk with the kids, parents, and staff, exclusively in English.

I started my position here three months ago, and it's amazing how much the kids are already able to understand. I'm starting to be able to ask them questions without gestures or other visual aids, and get an appropriate response from them. It is very exciting and promising, and I am eager to see what they are able to do at the end of the year.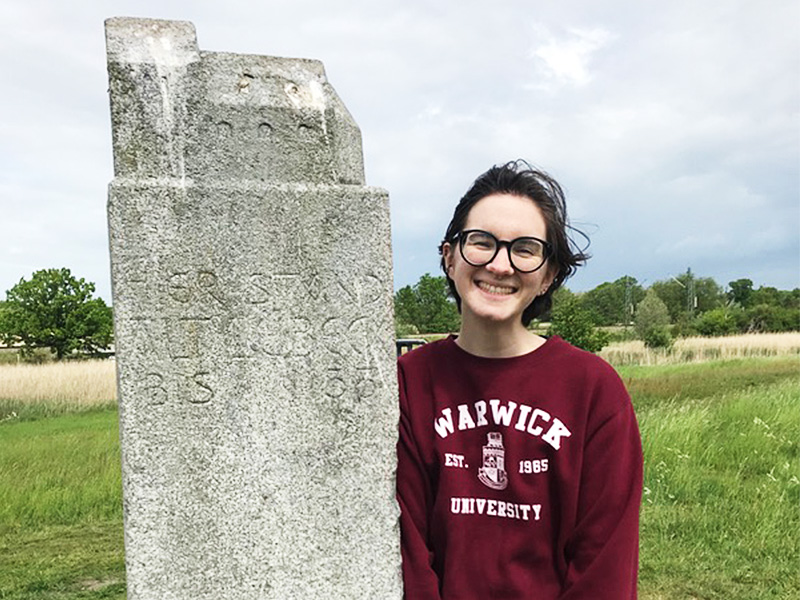 Justine Lorenz
What are my plans for the future?
In 2021 I will be able to have my American qualifications recognized in Schleswig-Holstein and will be hired as a full-time educator in the Kindergarten, an opportunity that I am very much looking forward to as I will have more time and opportunities to offer English projects.

What have I been able to take away from my experiences thus far?
Whenever I look at the children I'm working with, I see their futures. I see one child studying abroad at the University of Cambridge in England. I see another applying for his dream job, but the competition is fierce, and what puts him above all the others is his English fluency. I see a third traveling the world and making deep connections with the people she meets everywhere she goes because she's comfortably able to talk with just about anyone in any country, thanks to how long she's been able to speak English.

Learning a foreign language at a young age is a gift, and in today's modern, highly-connected society, learning English is more important than ever. I can't even count all of the ways that being fluent in English can help each and every person, regardless of their goals or abilities. Being able to provide that gift to these children, and seeing their enthusiasm in learning it, gives me a reason to walk into work every morning with a genuine smile on my face. I'm making a meaningful difference in the world around me, and that's huge. I wouldn't choose any other career.

I would be thrilled to know that there is a native English speaker in each and every school and Kindergarten here in Lübeck, so that all of our children can have this life-long opportunity to learn English in an immersive environment from the people who know the language best.
› zur Bericht-Übersicht